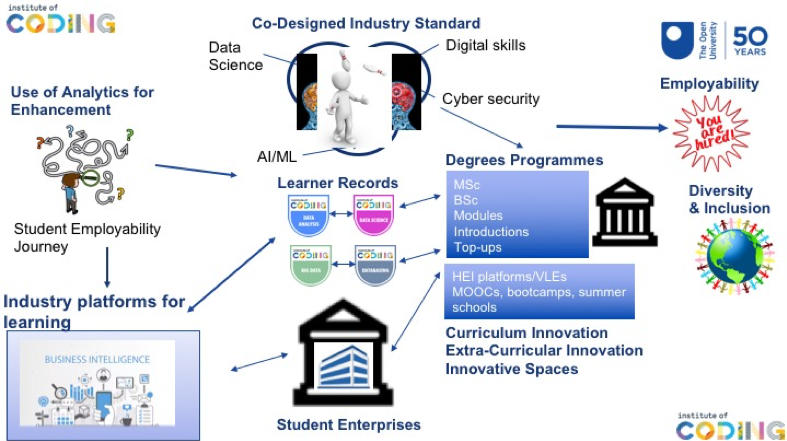 The Open University as part of the £20M funded UK Government funded Institute of Coding (IoC) initiative is running a number of workshops to work with Industry and communities to help in understanding the employability gap and skills needed to support current and future businesses and communities.
Within the IoC the Open University's vision is to join up traditional university learning with industrial training to facilitate seamless learner journeys, enhance employability and UK's productivity in key computing areas. We also aim to widen access and opportunities for lifelong learning success and professional development through the provision of flexible pathways. Understanding what these flexible learning pathways will be and how to use technologies to support creative and innovative career opportunities requires collaborative, creative and innovation partnerships and knowledge sharing.
With this vision in mind the first workshop to engage with the community and industry was a timely and well received Introduction to Artificial Intelligence. With over 45 participants from a variety of backgrounds Professor Arosha Bandara presented a short introduction into the exciting world of the Open University's approach to teaching and learning and the IoC's mission. As the OU turns 50 Arosha's presentation set the scene for the creative and innovation approach of diversity and inclusivity which is part of the workshop's mission as well.
This wonderful setting of 50 years of opening up education was followed by Dr Alistair Willis' introduction to artificial intelligence providing a short history and an insightful examination of machine learning (ML) approach through neural network example.
This inspired many questions around the data and training a neural network to identify patterns and that tricky but important problem of data bias. This informative step by step approach through looking at a small snapshot of a neural network in action was appreciated by the participants. The challenge to demystify these black box analysis helps people to start to ask the right questions.
Feedback and engagement is very encouraging – one participant informed us through the survey:
"I really enjoyed the introduction to AI lecture, and I felt ..I had come away with knowledge I didn't previously possess, the same goes for the can computers ask questions talk."
So you might be wondering whether or not computers can ask questions. Dr Paul Piwek highlighted that AI research has for a long time focussed on automated decision-making, whereas there is an equally important role for helping people raise problems and questions. He discussed specific AI technologies for analysing text to create questions about that text. As an example of an application, he described the work in the EPSRC CODA project on flexible information presentation. The project developed tools for taking information locked up in leaflets as text and turning this into conversations between computer-animated characters.
So how might we build this kind of smart system? Prady from AWS provided an overview of the type of tools available to help build smart applications using a range of AI techniques, data analysis and cloud services. During the workshop participants experimented with the tools and some presented their findings and experiences of using the tools.
Two participants experimented with face recognition of matching similarity. The presentation discussed how using a face recognition tool it matched just half a face capture with a sibling ignoring the other participant in the analysis.
Sometimes tools don't work as expected and one participant explained how some text about 'Brexit' had been analysed by the NLP sentiment analysis indicated that the text was neutral, while from a human point of view it was heavily emotive. This came back to the data bias question and the challenges about appropriately applying these tools.
The final part of the workshop was an expert panel discussion where we had a range of industry and academics answering questions, discussing and debating the current challenges. There was a range of interesting response both from the expert panel and the participants. There was consensus on the need to help people evaluate and understand the differences between services offered by each of the platforms on offer. Currently, the approach is to develop services that are easy to use for anyone but explanation is lacking. Tony Hirst from the OU emphasised the importance of helping people make informed decisions and draw valid conclusions.
How do we start to bridge some of the employability gaps? Related to this when discussing the challenge about diversity and inclusion participants and the expert panel considered that when producing tutorials that it is important to make sure they are designed based on a range of values not only thinking from one perspective. Current observation is that many of the software products only work for a particular group, usually for the same kind of people it was designed by in the first place.
The issue of curriculum overload – if you add more things, you have to take something out. How to reach that balance? And where does the role of the university finish and industry have to take over? Theoretical models and their application using these models is currently considered the University's role. Training using industry's standard software is often desired by students but this is a limited focus and potentially preventing the student's development of transferable knowledge, skills and behaviour by being too narrow.
Important point provided by one participant via the survey on how Universities and Industry could help with developing digital and computing skills:
"By demonstrating that the interesting and cool uses of technology are within the reach of the person starting out – they are not limited to those with advanced skills and years of industry experience.[…] The field is awash with competing technologies all of which perform very similar tasks. It's easy to see this as a field that is impossible to master because it moves fast and it appears to be vast – when in reality there are some core principles that don't change that quickly and one or two technologies that will allow you to do 80% of what you need. "
A huge thank you to everyone who participated and have provide feedback. A special thanks to our wonderful presenters, expert panel and AWS support. Any further questions and comments about the Institute of Coding then please email Dr Patricia Charlton patricia.charlton@open.ac.uk We will be contacting those who have indicated their interest for further engagement with the IoC and related work.
For access to the resources of the day please see the links below: