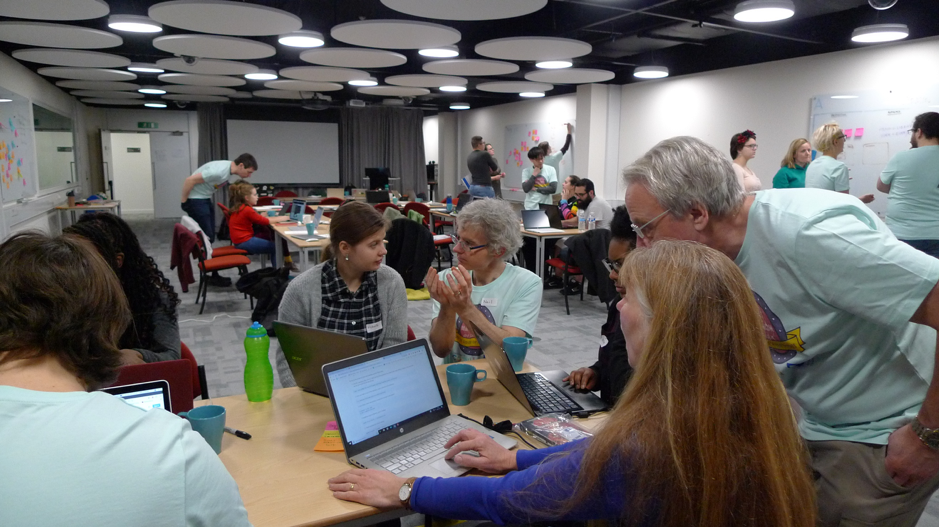 We had a very successful and engaging weekend hackathon with GirlsCode MK, MK Hackathon and The Open University as part of our work on the diversity and inclusion vision of the Institute of Coding.
Eva Dovč co-founded GirlsCode MK, along with her wife Valerie Benguiat, over two years ago to create a positive environment for girls and women of all ages to engage with designing and programming. Dr Neil Smith co-founded the MK Hackathon organisation in 2016 as a vehicle for local tech developers to contribute to their community; he's also a trustee of GirlsCode MK. These groups came together with The Open University over the weekend of 19 and 20 January 2019 to deliver a hackathon for GirlsCode MK members. The Open University and the Institute of Coding supported the hackathon to better understand how these groups improve access to teaching and learning about programming and reduce barriers to starting a career in tech.
It was an exciting way to spend a weekend thinking and hacking about books and libraries. The overall idea for the hackathon, a library web app, came from the GirlsCode MK members as a way to manage the group's collection of textbooks. The first thing I noticed when joining the hackathon was the very positive and inclusive nature of people, making everyone feel immediately at home.  Over the hackathon's two days, participants engaged with the key collaborative support activities of brainstorming and group forming; groups identified what they wanted to work on, designed an approach, and wrote the code needed to get it working.
All weekend, there was a buzz of activity and focus on what needed to be done, how to get started and how to contribute. There was plenty of help and support from others, whether they were new to coding or more advanced practitioners.
A friendly rivalry started between those using Python and those using JavaScript — who would get the first new feature up and working?
We are all impressed when the youngest team got there first and as Eva said, 'the future'. It's good to know the tech industry is in talented hands if this weekend is anything to go by.
Over the weekend, over 40 people participated in the hackathon, together making about a hundred different updates to the shared software repositories. Those updates spanned all aspects of software development, from database migrations to web request processing to user experience design to documentation and testing.
We're looking forward to seeing GirlsCode MK at the next Hackathon. Get in touch if you would like to find out more and about the up and coming Institute of Coding activities. Last but not least a huge thank you to everyone who attended the hackathon and to the wonderful support and work of the coaching team! If you want to find out more about the Institute of coding and how to get involved then please contact patricia.charlton@open.ac.uk. And for those who would like to join (or coach!)  GirlsCode MK then see https://girlscodemk.co.uk/